Designing Vinter
The words "designed in Norway" usually invoke images of a cold, clean style. This ideal seems to exist across most creative fields, from electronic music to modern architecture. You don't have to stay here long to understand why. In the shadows of snow covered mountains, on islands surrounded by endless blue seascapes, or in tiny wooden cottages in the vast pine woods. Circumstances like these can easily strip crafts of ornamental bells and whistles, leaving nothing but bare necessities.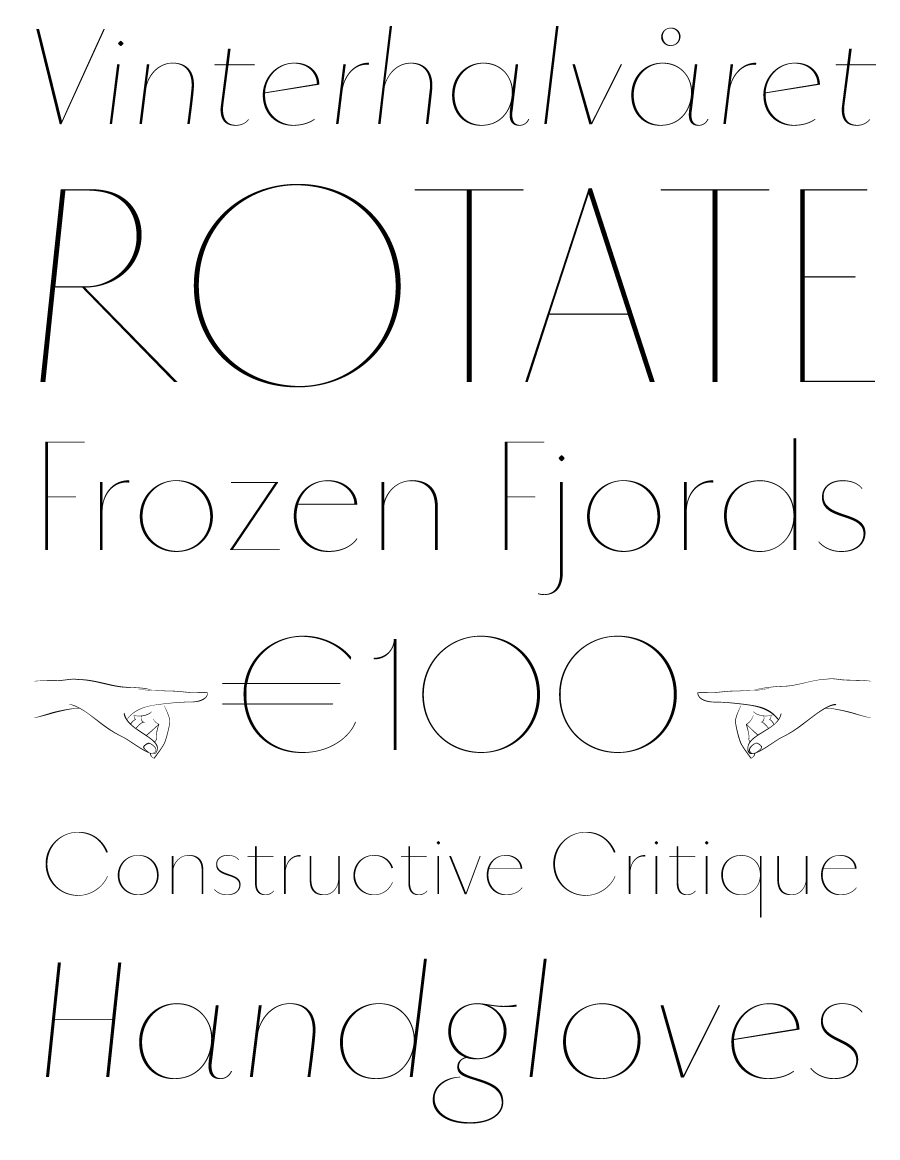 Vinter is a geometric sans-serif intended for titling. At its core lies an exaggerated classical rhythm and a geometric-humanist structure with contrasting opened and closed apertures. Walter Tracy once said: "A great typeface is not a collection of beautiful letters, but a beautiful collection of letters." Vinter aims at being both of the above. More line than shape, basic geometric figures like the circle, square and triangle invites playful compositions, overlaps and deconstruction. The experimental italic expands on this idea; rotated instead of slanted (with a nod to Filip Tydén's rotalic concept), the circle is still a circle. Even still, a considerable amount of time was spent reconciling the whole. Drawn with the same attention to detail, optics and spacing as our text faces, it does not compromise substance for effect.
I've always enjoyed winter. Partially because I'm not too fond of heat, but mostly because the Norwegian winter is so extreme, ranging from utter silence to deadly blizzards. I have spent hours ice fishing on frozen lakes, with merely an inch of ice separating me from the dark depths. I have traveled the north where sunlight disappears with summer and endless night lasts until spring. When the first snow falls in late November, it upends everything: Rough turns soft, wild turns graceful and noise turns silent.
Like wilderness veiled in a blanket of white snow, Vinter's mechanical geometry is wrapped in carefully modulated pen strokes. Vinter started out with a wide range of alternates and ligatures. Yet as it grew into its final shape, only a few carefully selected were kept. Vinter is available in two styles from our web shop.