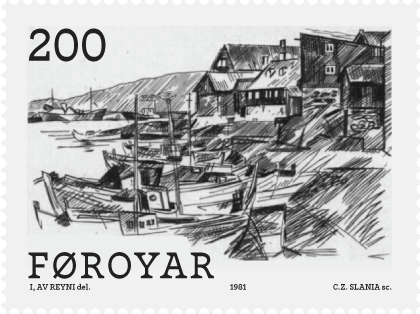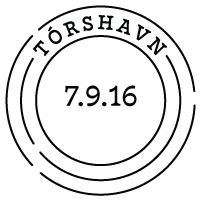 Tórshavn · Sept
ember

7th, 2016
Atlantic
Oscillations
Despite having only one record store and two music venues, Tórshavn enjoy a thriving music scene. The most interesting music coming out of Faroe Island, however, is still relatively unknown outside
its shores.
Considering its size, the output of creative arts from the Faroe Islands is breathtaking. Besides the visual artists and authors we've already mentioned (and there are many more that should not be glossed over) there is the music scene:
Singer-songwriters Eivør Pálsdóttir and Teitur, the viking metal band Týr and postrockers Gestir have all made a name for themselves internationally.
The now 69 years old composer and pianist Kristian Blak is the grand old man of the Faroese music scene. Blak is founder and owner of Tutl, the only record store and the biggest label on the islands. He is also the mastermind behind a multitude of festivals that attract visitors from around the globe, and has featured as a musician in numerous constellations alongside internationally renowned artists. With a near-monopoly, almost all Faroese records are released on his label.
The most interesting music coming out of Faroe Island, however, is still relatively unknown outside its borders, and predominantly, talent now seems to steer clear of the Tutl stronghold.
While starting out with Tutl, Rasmus Rasmussen is one of the artists who later went on to found his own label. Rasmussen was perhaps the most talented Faroese guitarist of his generation, and the story of his short life is an especially heartbreaking one: After word got out about his sexual orientation, Rasmussen was attacked and threatened in central Tórshavn. Never fully recovering from the incident, he struggled the following years with severe mental illness. On October 10th 2012 he was found deceased in a lake in the central park of Tórshavn.
Rasmussen's solo records (the first four on Tutl, and the last three through his own Myrkar Records) speaks volumes of his talent, but his contributions to metal acts Hatursvart and Mjørkaborg are also notable, as well as his work with local rock outfits Diatribes and Makrel.
In 2012, the Faroese band Steso released an album dedicated to Rasmussen (Proper Fucked, Tutl, 2012), with contributions from large parts of the Tórshavn music scene.
Rasmussen's former bandmate of Makrel, Rolant Lenvig av Reyni, is another interesting, though unpolished, artist to keep an eye out for. Under his yet unreleased moniker, Hús, Reyni is recording the sort of beautiful, hazy, melancholic instrumental pieces you envision accompanying a Sofia Coppola dream sequence. Peering out from underneath compressor-laden trip hop beats, they make for soundscapes lodged somewhere between Nils Frahm and Boards of Canada. Reyni – who also records and plays with his girlfriend, 21 year old singer-songwriter Rebekka Petersen (Byggi Borgir, Tutl, 2014) – is, of course, related to the great Faroese painter Ingálvur av Reyni. "We are all a big family," he tells us over a beer at Sirkus, the downtown bar made famous by Bjørk's Triumph of a Heart music video before it was closed down in Reykjavik and relocated to Tórshavn.
Reyni's debut record is scheduled for release late 2016, mixed by another talented musician from Tórshavn – ORKA.
Jens L. Thomsen, otherwise known as ORKA, began crafting his own instruments from agricultural tools on a small farm, making acoustic techno and ambient of the sorts that Dawn of Midi is spearheading in the US.
Later records still feature handmade instruments, but now weaved together from sampled soundbites, sparingly combined with synthesizers. ORKA quickly took to the wings and left the islands for greener pastures on mainland Europe. His latest LP, Vað (Kervid 2016), is written in London and produced in New York with former Dälek member Oktopus.
❦
If you never went here, you wouldn't believe how tiny Tórshavn actually is. Within a radius of 100 meters you can find its only record store (Tutl), the two main rock venues (Reinsariid and Sirkus), all ten bars, the sole cinema (currently showing Ben Hur in 3D), the only two second-hand shops in the entirety of the Faroe Islands, as well as a tiny used bookstore – Reyði Krossur Føroya. Really, it's a hole in the wall. You can pay anywhere from five to fifteen Danish kroner through another, even smaller, hole in the wall for the book of your choice. (The chatty British bookbinder occupying the room downstairs from us incidentally financed his first holiday to the Faroes with a rare Tolkien book he found here.)
A little love is also due for otherwise cheesy Kafe Kaspar, located street level on the ground floor of Hafnia hotel: In a corner is a basket filled with yarn and knitting pins, and, above it, a note that reads: "Empty hands? Help yourself!"
And as we're sitting here in the Kaffihúsið café by the peer, writing these words, from out of the blue (a truly rare occurence in the Faroes), the entire Hungarian national football team suddenly decides to drop in. Tonight they are playing the Faroe Islands in the European Championship qualifiers – a match that is sure to attract the better part of 50 000 islanders and, at least, a couple of the numerous Faroese sheep that vastly outnumber the hominid bipeds.
Follow #nordvesttour for the next instalment, or read the previous story about the traditional faroese Grindadráp here. The postage stamp features art by Ingalvúr av Reyni, remixed with Nordvest.